Too many marketers focus on making their videos look nice, rather than on how well they convert and how much money their videos are making. Now, with this one web app, you can instantly know which of your videos are working, how much they're making, and what you need to do to improve those that may be under-performing.
Today Joshua Zamora is on the show to talk about Smart Video Metrics and how you can get details about your videos' earnings and performance that you haven't been able to capture before.
Click here to get Smart Video Metrics along with my special bonuses
Watch the show below
Special Bonuses for the Mike From Maine Audience: You're going to get all the bonuses listed below the sales page preview, but I got Joshua to give you guys a SPECIAL bonus as well. If you purchase through my link you'll also get the following bonuses: 
Super Special Bonus – Resell rights to WP Visitor Converter (value $197) – You get full rights to resell this and keep 100% of the profits
WP Visitor Converter is a new plugin who can convert your visitor into a list or subscriber and finally increase your sales. Here's How You Can Transform Your Visitors Into A Raving And Responsive List Of Buyers … And How To Do This Over And Over Again!
Bonus #1:  The Secrets of the $500k/month man ($97 value)
In this incredible interview you're gonna hear from a guy who makes over $500k per month! You're gonna get a full insiders view into his entire process. Plus you're gonna get some amazing mindset training and some BADASS sales training that you'll be able to use to generate some BIG paychecks.
Bonus #2 Zamurai Video Editor ($37 value)
In this bonus you're gonna be able to skyrocket your video traffic by creating powerful CTA's and thumbnail images for your videos. It will help you to stand out from the crowd of basic videos. Plus you can add this as a service to your clients.
Bonus #3: 20 Professional CTA Images ($37 value)
Use these CTA Images to not only increase your sales, but to also create dozens of variations of your videos automatically with VSA. These are professionally designed CTA images that are proven to convert viewers into buyers!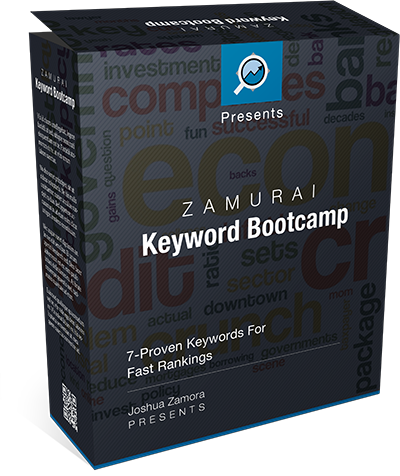 Bonus #4 Zamurai Keyword Bootcamp ($37 value)
This is the PERFECT fit for Smart Video Metrics. In this bootcamp training you're gonna learn Josh's 7 favorite types of keywords that have made him thousands of dollars in commissions. These are proven keywords that rank FAST and convert extremely well.
Bonus #5 Zamurai Video Immersion ($197 Value)
This was a LIVE 4-week video marketing immersion training Joshua held with a small select group of people. They each paid $297 for this training and you can get it as a free bonus for InstaNiche. In this training you're gonna learn EVERYTHING Josh does in his video marketing business to make 5-figures in commissions every single year. You're gonna be able to use this to profit even MORE commissions with Video Synd Alpha!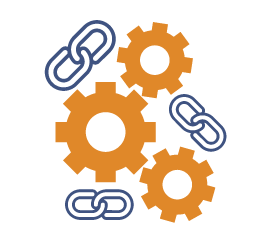 Bonus #6 The FASTRANK Plan of Action that WORKS! ($197 Value)
How would you like to get Josh's EXACT FASTRANK plan-of-action broken down WEEK by WEEK so you know EXACTLY what you need to be doing to get results FAST with Smart Video Metrics? That's what you'll be getting here. Just deploy this site-promotion plan of action and you have the ultimate recipe for page 1 success.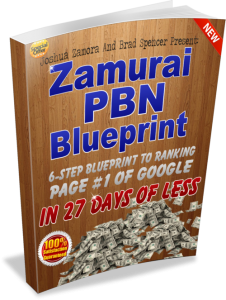 Bonus #7 Zamurai PBN Blueprint ($37 Value)
PBN's are still the undisputed KING of dominating the first page of Google. However, most people don't know how to use them effectively. Zamurai PBN Blueprint will walk you through exactly how to build your own Private Blog Network for as little as $15 per domain. With this, you can start getting the most powerful type of links to rank #1 in Google with your sites.
Bonus #8 The SALT Formula ($37 Value)
How would you like to be able to DOUBLE the revenue of your videos?
Yea that's a pretty rhetorical question haha. Well, in this bonus you're gonna learn exactly that AND we're gonna show you how you can do it in just 4 simple steps. This is the perfect combo to ensure your Smart Video Metrics stats are off the charts!
Bonus #9 1000 Professional Stock Video Images ($497 Value)
Have you ever gone to a stock image site to try and find the right images to use in your videos?
Not only can it be a pain in the ass, but it can be extremely expensive! Using the right images in your videos can give it a professional feel to push your viewers into becoming paying customers.
Bonus #10 VidPro Templates ($97 Value)
How would you like to get access to the same type of templates that I use in my business to generate millions of dollars in sales with my videos?
In this bonus you're gonna get not ONE, not TWO, but SEVEN of my best converting templates that you can use in your business.
Bonus #11 LIVE 90 Minute QnA Session ($497 Value)
LIVE 90 Minute QnA Session ($497 Value)
If you think the bonuses above are not enough, why don't we jump on a LIVE QnA session and go through any and all barriers that are stopping you from becoming successful with video marketing?
Not only will I share with you my best kept video marketing strategies, I'll also stick around and answer every one of your questions, LIVE!
An hour coaching session with me is easily $500 or more! You're getting a full 90 minutes for FREE!
And they're easily editable with free tools like Powerpoint. To get a template like this designed would easily cost you over $500 EACH!

Just make sure you buy through my link tomorrow and send your receipt to [email protected] in order to get the software along with a bunch of other bonuses.
Sales Page Preview
​Smart Video Metrics Bonuses
Buy through my link above and you'll get the following special bonuses. Just email your receipt to [email protected]
Bonus #1– Video Marketing For Beginners ($17 value)
Why You Should be Using Online Video Marketing!
Bonus #2– Video Sales Letter Genius ($47 value)
Get Hordes of People Buying Your Product ...
Bonus #3– WP Scrolling Videos ($57 value)
Allows your videos to scroll as visitors read your content!
Bonus #4 – Simple Video Cash ($27 value)
Training On How To Make Cash From Simple Videos!
Bonus #5 – Master YouTube Video Editor ($37 value)
Learn How To Edit Your Videos For Free Using YouTube Editor!