Episode 397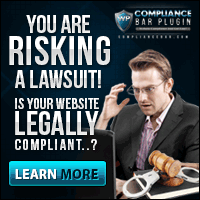 Did you know that you can get SUED online? That's right, you can have your business taken right out from under you if you're not using the right kind of compliance pages on your affiliate, Adsense, Amazon, and other marketing websites. Luckily, there's a quick solution that will cover your butt from most kinds of trouble.
Anton Nadilo is on the show today to talk about how using his Compliance Bar Plugin can save you from a world of headaches.
Click here to get a $10 early bird discount on Compliance Bar until 11am EST along with my special bonuses
Watch the show below:
Compliance Bar Demo
Compliance Bar Plugin Bonuses!
Buy through my link above and you'll get the following special bonuses. Just email your receipt to [email protected]
Bonus #1 –Whiteboard Video Set ($27 value)
Capture the attention of local business owners so that they will be calling you and hiring you for video services!
Bonus #2 – Protect Your Websites and Beat the Hackers ($17 value)
Learn How To Protect Your Websites and Beat the Hackers!
Bonus #3- List Success ($37 value)
Build a responsive list! Write emails that convert! Establish credibility and trust! Discover How To Successfully Build A Responsive List, Write Emails That Convert And Establish Credibility & Trust With Your Subscribers!
Bonus #4 – Online Legal Protection ($7 value)
Keep You And Your Internet Marketing Business Legally Protected Online!
Bonus #5 – Learning The Legalese ($27 value)

A Guide To Legal Planning For Home Business!